COMPLETE PARACHUTE SYSTEMS FOR SALE
Very reasonably-priced, complete Student parachute systems Email Us with any questions.
---
Update 03/10/2018 -
Coming May/June 2018! The most complete assortment of used student parachute systems, Vector student rigs with Navigator and Silhouette mains from 190 - 300 sq ft we've ever had, all in excellent condition a reasonable prices!
CHECK BACK SOON AS BAD LINKS ARE BEING MENDED, UPDATES AND PHOTOS ARE ADDED!
---
---
---
These also make very reasonably-priced, complete "Big Boy" rigs for the heavier, older, or less-experienced skydiver. These slightly-used parachute systems make a great first rig for the conservative low time skydiver who wisely wants a few extra square feet of canopy overhead for a little extra margin of canopy control safety. Email Us with any questions.
Student Vector "220-4" with Navigator 220 main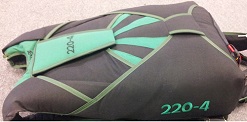 Sold
---
"240-8" Student Vector with Navigator 240, PD 253 Reserve, Cypres 2, BBOC (AFF main handle) only 2 year old student rig for sale, Navigator 240 with about 125 jumps, in great condition and ready to go to work for you, $4,800!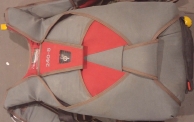 SOLD, but there are others...
---
USED PARACHUTES ONLY-
---
Like-new Storm 230 main parachute-

| | |
| --- | --- |
| | Just listed February 2016! - 7- cell main in great shape, perfect for the low time, heavier, or slightly clumsy skydiver who (wisely) wants a little extra square feet overhead to avoid a hospital food situation, or for the student program/ rental rig program. Only one or two jumps, in perfect condition, a steal at only $1,500!! manufactured August 2012, sat in the bag almost the whole time since we never got around to ordering the associated rig and kind of forgot about it. Ser. 1509. Center cell gray/silver, one white cell on each side of the center cell, the rest is all orange. No damage whatsoever, only has 1 or 2 jumps on it. offered for sale since we just never got around to ordering the rest of the rig to go with it. SOLD |
---
Navigator 240 SN 2275 DOM April 2006 600 jumps Dacron lines, Priced to sell for only $600! Click for high res.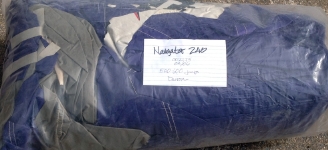 Just listed February 2016!
---
PD 218Reserve DOM Jun3 1993 SN 4837, 27 packs, 3 jumps. Dacron SS links. Priced to sell at the ridiculously low bargain price of only $200! Click for high res.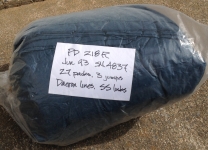 Just listed February 2016!
---
Skymaster 290 main, & PD 253 reserve, Canopies only, $800 both or $500 each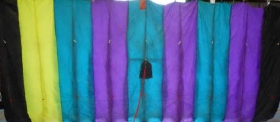 The reserve is a typical Orange reserve.
PD 253 reserve from 1988 only $350, or packaged with a little-used Skymaster 290 main only $600 both.
---
All used rigs are offered for sale as is with no guarantees, contact us to schedule a time to come by and take a look.

Ordering/shipping/handling- We can usually ship within two working days of when we get a bank transfer or cash, or 2 weeks of when we get a Postal Money order or personal check. No sales tax if we ship to states other than Virginia or out of the US. Not responsible for import duties or VAT's. Credit card sales must be in person in Orange, VA. As I typically buy and sell many complete rigs every year, we have zero tolerance for any risk involved in the sales transaction. Shipping cost is not included.

Please be sure to include a note reminding us what you want, your complete address and phone #. Shipping to a business address where there is someone there during the day usually works well.
CHECK BACK OFTEN- you never know what used student rig, main or reserve we'll sell next.