---
Graveleys for sale! 3 used Gravely 4-wheel Tractors, models 424, 430, and 432 with (2) 50" mowing decks in condition for rebuilding.

Listed May 8, 2022- These 3 vintage American made heavy duty 4-wheel Gravely tractors include one, hard to find* FACTORY NEW, never installed, 12 HP electric start Kohler engine for Gravelys. The new engine has a dent on the rear cowling near the spark plug, and the gizmo that skims leaves and clippings off the flywheel screen has a little paint off it as you'll notice on the photos. Email skydive@cfw.com with subject "ABOUT THOSE GRAVELYS".
$1,700, green cash only

Click on the photo thumbnails below to see larger: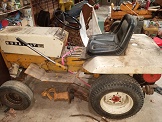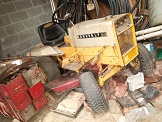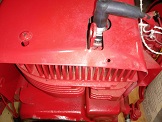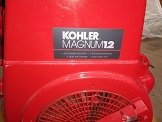 What's so great about these is that compared to cheap dime-store ride-on lawnmowers is 400 series Gravely tractors have a very heavy 4-speed cast Iron transmission, Cast Iron Kohler engine spec'ed to bolt directly to the gravely transmission with it's 2-speed axle and 2 speed ranges for both attachment and wheels. The center of gravity is relatively low so tip-overs are relatively rare, and with each rear wheel being equipped with it's own drum and band brake, it's easy to skid steer sharply or brake one rear drive wheel should it start to spin on slippery ground.

I was going to restore 2 of these tractors to like-new condition for use in my plant nursery, but due to health reasons, I'm going to let this all go to a good home with the potential for anyone familiar with 1970's or so era Gravely tractors and willing to spend the time and effort can have a couple of good working Gravelys to be proud of. Includes manuals and parts books.

One of these tractors was mostly stripped down for rebuilding, and another has the reliable 16 HP electric start Kohler Engine I put in it new so very long ago when I was a younger man not in a wheelchair - could be made to run with a little effort. Indeed, the other two gravely tractors are in rougher condition.

All mower decks need to essentially be rebuilt (a lot of used and a few new tractor parts are included, along with many extra blades. There's also a ~40" mower deck (all mower decks for these are mid mounted, 3 blade type. Kohler carburetors fortunately seem to be incredibly forgiving of old shellac-type gunk from old gas, so getting these old engines running shouldn;t be too difficult.

Specific items: BATTERIES - NO usable 12 volt batteries are included.
HOODS, FENDERS- rear seat mount/ fender assemblies are all fixable thanks to very little rust. You'll want to add some washers and bushings where the two pivoting mounting bolt holes on the seat mounting hoods, and maybe dolly out an easily fixable dents or two, but the sheet metal is actually in pretty good condition. My dad used to do old-time (1930's - 1950's) auto body work, and someone with his skills could make these look like new... (If only I'd inherited the old man's steady drill bit sharpening skills! - but I digress...). He was a machinist too.
MOWER BLADES- Lots of old used ones, and probably about 9 or 10 new ones of various manufacture.
GAS TANKS- might need a little cleaning, but I don't know of any rust or leaks, so they should be usable.

No front mounted attachment systems for powered attachments, just center mounted mowers.

Everything has been kept indoors here** when it's not being used for at least the last 30 or so years, so very few items are particularly rusty.

For loading on your trailer or truck, we have a standard loading dock for a big truck, also sort of a bank you could back a pickup truck up to, and I might likely help loading with our tractor with loader, but I'm a wheelchair guy so it's mostly sold buyer picks up and loads here. Lots of loose bits and pieces...

*I'm not sure if Kohler even makes new engines that mount up to this era of transmission, which is very strong and durable and was used on both 2 and 4 wheel Gravelys.

** dry, but very dusty with the occasional snakeskin and signs of mouse visits.

Anyway, if you care to take a look at this stuff, send an email to skydive@cfw.com so we can arrange a time here in central Virginia.

GREEN CASH ONLY, no checks. Located in Fishersville, Virginia, easy on/off I-64 and I-81.

For sale as-is, please check everything over yourself carefully before buying... No refunds.

Email skydive@cfw.com with "ABOUT THOSE GRAVELYS" in the subject line, or text or call (540) 943-6587 (PLEASE kindly leave a message if no answer!).