An excellent, very reasonably-priced, complete rig for the licensed skydiver as-is, or the perfect "LITTLE GIRL"
AFF STUDENT RIG. A nice little slightly-used parachute system that should sell very quickly!
Complete Velocity Sports Infinity parachute/harness container system. Equipped with BBOC student AFF handle, throw-out Zero-P kill line pilot chute. Contact us to schedule a time to come by and take a look.
Ordering/shipping/handling-
We can usually ship within several working days of getting a bank transfer or cash, or 2 weeks of when we get a Postal Money order or personal check. No Virginia sales tax if we ship to states other than Virginia or out of the US. Not responsible for import duties or VAT. As I typically buy and sell many complete rigs every year, we have zero tolerance for any risk involved in the sales transaction. Email Us with any questions. All used rigs are offered for sale as is with no guarantees, shipped with the reserve unsealed, ready for your rigger to inspect and repack, then it's ready for you to jump!

If mailing payment, please be sure to include a note reminding us what you want, your complete address and phone # and email address. Shipping to a business address where there is someone there during the day usually works well.
UPDATED February 2019-
Infinity "3B1G" Excellent condition assembled new March, 2014, has 450 jumps, no reserve rides
PD OPTIMUM 193 Reserve, DOM September, 2013, no rides
Airtec Cypres 2, DOM JUNE 2018 - ALMOST NEW! (Or new Vigil 2)
PD Silhouette 210, DOM August 2013, Excellent condition
Ready to go to work for you next weekend after your rigger inspects and repacks it.
$4,900 NON-adjustable harness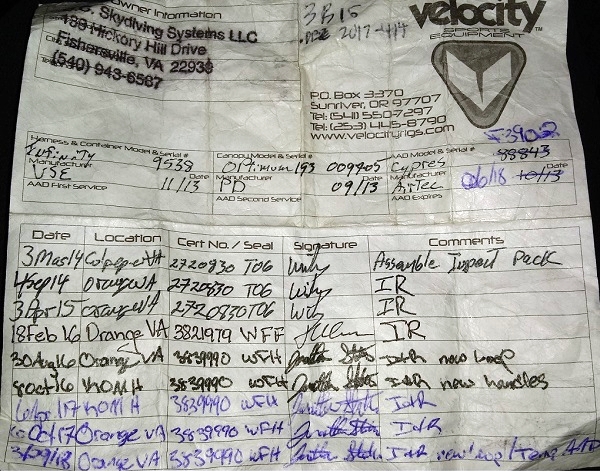 Click for larger: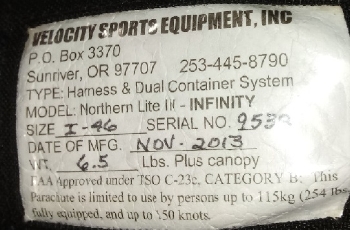 Main parachute photos:
Main-photo-1

Main-photo-2

Main-photo-3

Main-photo-4

Main-photo-5

Main-photo-6
Main data panel, manufactured August 2013: