Hardly used, 110 gallon sprayer transfer tank with high-volume independant 74 Gallons per Minute Honda gas-pump powered transfer pump on 3 point hitch skid tank for sale in Fishersville, VA.
ONLY $1,100 Green cash only, NO CHECKS
Scroll down for details and specs.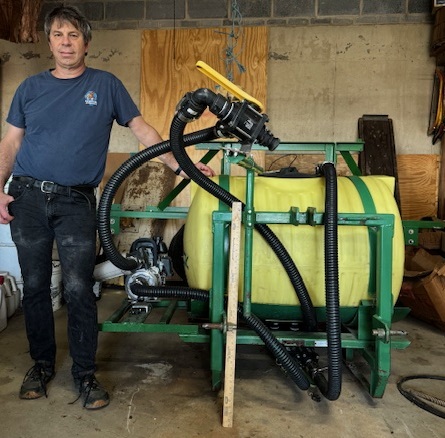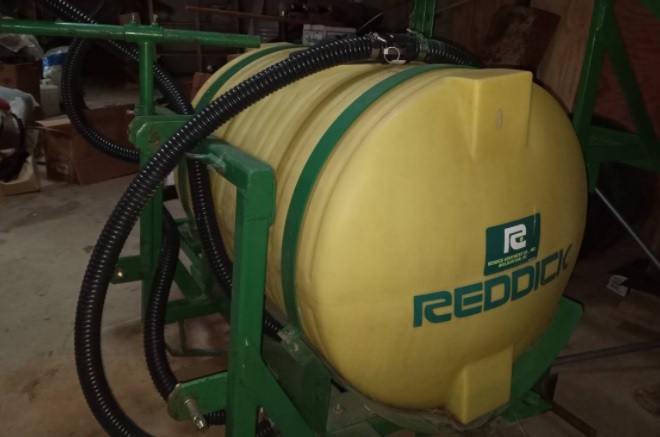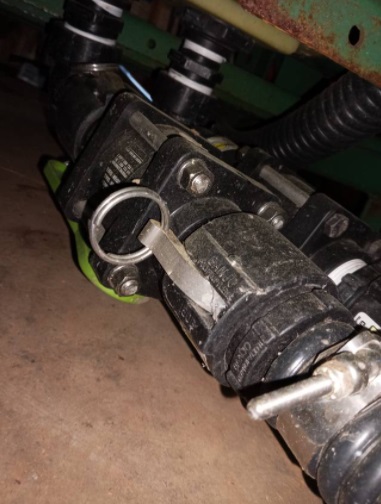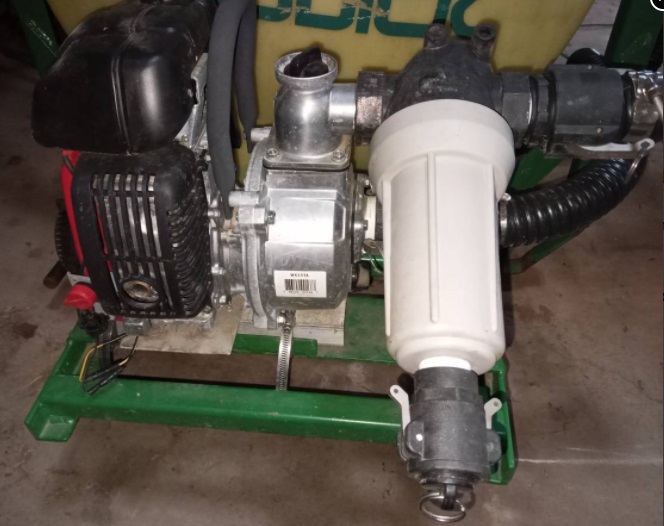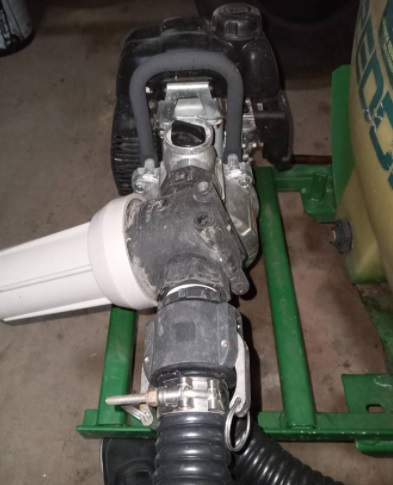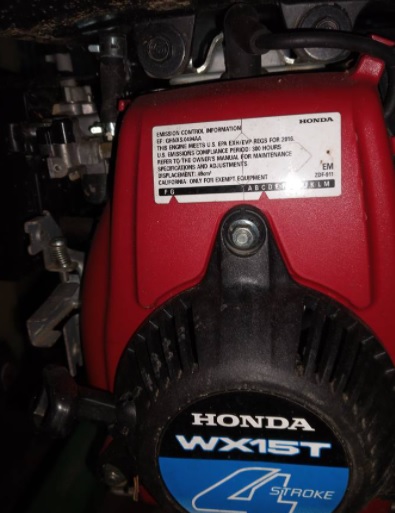 November 14, 2023-
110 gallon poly chemical tank on skid with 3 point hitch with 74 GPM Honda WX15T transfer pump, lots of 1-1/2" intake hose, filter and plumbing ready to go to work for you storing and quickly moving your custom liquid mixes from this mix tank to where you need them to be when you need your custom tank mix to be there!

Exquisitely designed as a fast, efficient storage/transfer/nurse tank for a commercial spraying operation. 74 GPM Honda WX15T pump and hoses of very recent manufacture. Best of all, while you're waiting to unload this tank, thanks to the versatility of it's approximately 30' - 40' of 1-1/2" flexible negative-pressure-type hose, it can easily be made to constantly agitate itself all the time it's pump is not otherwise pumping fluids into or out of the tank. Stored indoors, very little use.

Though primarily outfitted as a nurse tank, there is also a nicely designed angle iron mount across the back so you could easily add your own spray boom (not included), or possibly for a wick applicator (also not included). We can easily unbolt the 8'-5" long angle iron running crosswise that serves as an optional mount for a boom or wick applicator for easier loading.

Originally a Reddick high pressure sprayer, most of the original sprayer parts were removed and it was turned into a very well designed high volume pump nurse tank system with excellent workmanship and then nicely painted.

I'll help load it with my tractor, but I'm a wheelchair guy so the buyer will need to load it and tie it down and such.

Easy access off of I-64 and I-81 in Fishersville, VA Please email usedparachutes@gmail.com (yeah, excuse the odd email address) with "SPRAYER" in the subject line, or call (540) 943-6587 and leave a message and we'll call back soon.

Email usedparachutes@gmail.com with "ABOUT THAT SPRAYER TANK" in the subject line, or text or call (540) 943-6587 (PLEASE kindly leave a message if no answer, I have to screen my calls thanks to the oh-so-many spam phone calls).

For pickup here, right off I-81 and I-64, Fishersville, VA.

This can be used for:
-liquid fertilizer
-boom sprayer, length; 10' boom, 12' boom, 14' boom, 16' boom; 18' boom; 20 boom
-nitrogen, ammonia, nitrate
-wick applicator (not included)
-insecticide holding tank
-fertilizer holding tank
-fungicide holding tank
-tractor mounted tank
-bulk tank
-component tank
-agitator
-2" high volume flow pump
Ideal for storing mixed or concentrated growth hormones, insecticides, fungicides, liquid fertilizers, inoculants, noculant, trace elements, magnesium, iron, Fe, christmas tree dye, dyes, flocking, for wholesale growers of produce, helicopter spray operators...

Honda engine powered pump makes quick work of pumping transferring high volumes of liquid spray at high GPM flow rates into your spray or other tank for an efficient fixed wing aerial sprayer operation for increased profits for professional aerial applicators. Helicopter not included, sorry.
---
Email usedparachutes@gmail.com with any questions, pardon the odd email address.